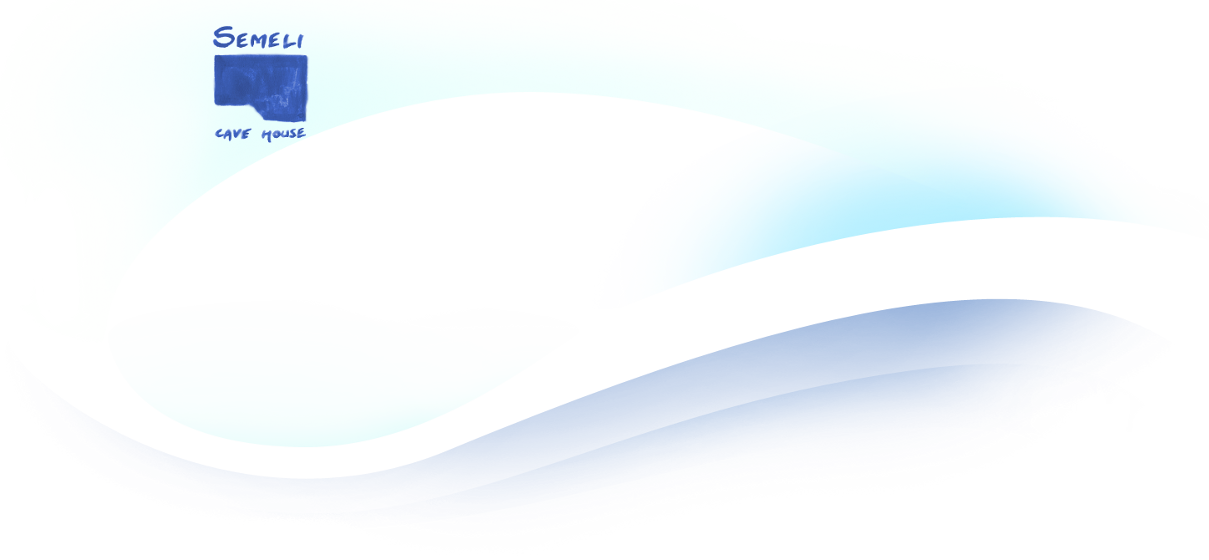 your Santorini unique Cave House

#visit#relax#enjoy
Semeli Cave House is a renovated property that lies in the scenic and traditional village of Exo Gonia - Santorini. It consists of a living room with dining table and TV, a vast bathroom, a fully equipped kitchen, a master bedroom with a double bed and a small sofa and two smaller bedrooms with two separate sofa beds in each of them. The house opens to a spacious patio, with table, chairs and an outdoor Jacuzzi and also offers a terrace with sunbeds and spectacular view.
By staying in Semeli Cave House you will take part from the very first moments, in the life of one of the most beautiful and traditional settlements of Santorini: that of Exo Gonia.

Enjoy the authentic Greek hospitality, combined with customized services and our suggestions on how to enjoy your stay with us to the fullest!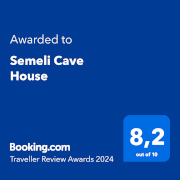 We are truly proud of our fantastic review score on @bookingcom! #guestsloveus
Semeli's Services & Facilities
· why Semeli ?
Semeli Cave House: A home away from home. The house is a self –catering property, ideal for families, couples or even friends that wish to experience Santorini island in a different and personalized way
· is Internet free at Semeli ?
Definetely yes, we offer Free wifi internet access
· Can i cook inside?
Fully equipped kitchen is waiting for your Cycladic Cooking inspirations!
· Is Clean and Safe ?
Outdoor hot tub, Towels, linens, bathrobes and Bathroom amenities are all at your disposal!
· How can i reach you when arrive?
a Transfer arrival/departure is available (upon request). Taxis and local buses are also available from the airport/port
· And what's nearby ?
Let us organize for you excursions and activities in order to explore the island in the best way!
Santorini Suites and Villas

Fira City
Fira is a city of white-washed houses built on the edge of the 400 metres (1,312 feet) high caldera on the western edge of the semi-circular island of Santorini. The two main museums of interest are the Archaeological Museum of Thera, 30 metres (98 feet) east of the cable car entrance, and the Museum of Prehistoric Thera at the southeast corner of the White Orthodox Cathedral of Ypapanti. Access to Fira is mainly by roads on its eastern side, climbing from its port via the Z-shaped footpath on foot or on donkeys, or by riding the steep cable car from its lower terminal by the port. The central square of Fira is called Plateia Theotokopoulou, with a bus and taxi station, banks, and pharmacies.

Santorini Suites and Villas<

Kamari beach
Visitors from all over the world, umbrellas and sun loungers, sea sports, hotels, cafés and restaurants, beach bars, gift shops: this beach -one of the largest in the Cyclades-, seems to have it all! The black, thin sand feels hot under your feet and the view to the impressive Mesa Vouno, where the Ancient Thira was built, soothes the eyes as you swim. In the evening, when the lights come on, the coastal road becomes an endless stream of people

Pyrgos Village


Medieval Santorini comes to life in this lovely village of Pyrgos, 7.5 km east of Fira. In Pyrgos there are boutique hotels, luxury villas to rent, cafes, gourmet restaurants, taverns, shops, mini market, bakery, gift shops, gas station and many more. In order to really appreciate the unique atmosphere of Pyrgos, we suggest that you take a walk along the cobblestone narrow streets and go up to the Casteli to enjoy the unobstructed view over the top. The houses had two or three storeys, and ground floors were partly built and partly rock-hewn. Alleys among them were very narrow. As time went by, a neighbourhood the locals called Xeporto (meaning outside the door of the Casteli) was built outside the defensive perimeter
How to find Semeli Cave House
Semeli Cave House is located in the village of Exo Gonia, a small settlement built at the slopes of Mesa Vouno (Profitis Ilias mountain). It is a traditional farming village with several wineries and canaves (cave installations for production and storage of wine).
The tiny village is like another world. Quiet, with nice view towards the sea and the flat land where the airport lies. The best view spot is from the church of Agios Charalambos where you can see the whole island.
Stay Safe at SEMELI CAVE HOUSE
MESSAGE FROM SEMELI CAVE HOUSE TEAM.
Greetings from Santorini Island!
At Semeli Cave House we can assure you that the safety and well -being of our clients and staff is our greatest concern and priority .We are following all guidelines of the Greek Government and the Greek Health authorities regarding the hygiene of our complex.
Semeli Cave House is in a privileged position with its own private entrance and terrace.
If you need to adjust your reservation for any reason,please send us an email at
info@santorini-semelicavehouse.com
We look forward to welcome you in Santorini !
As people who love to travel, we continue to dream more than ever and share with you the beauty of Santorini. Kindly follows us in social media to keep you informed about what happens in our island!
Frequently asked questions:
Are there any Covid-19 incidents in Santorini Island?
Till today we have no evidence of infections in our island.
How do you clean and who accesses my place daily?
Our hotel colleagues are fully trained by a certified government company on hygiene protocols.
What care can be given, what is the closest hospital?
We have a contract with a local private Medical Clinic and there is a doctor on call 24 hours a day. Moreover, the Public Hospital is in a distance of only 4.5 kms from our property.
For any further information or clarification at any time please contact:
Mr Vaggelis Fousteris - Director -tel :0030 6945140353